Now enrolling grades K-8 for the 2018-2019 school year! Contact the school office for enrollment paperwork.
​

Welcome Letter from our Principal

As principal of St. Ignatius School, it is my pleasure to welcome you to our school. Educating students since 1920, St. Ignatius is rich in tradition and heavily invested in faith and family. With the help of staff and parents, St. Ignatius is a place where students grow in God's love.

I am proud of our many accomplishments, particularly, of our successful graduates who are a living testimony to the education and spiritual foundation established at St. Ignatius School. Our alumni carry the high ideals of excellence in academics, service, and leadership.

Our professional and experienced staff is the backbone of our school. In partnership with parents, they have provided excellence in Christ-centered education and service to our families and parish community where Christian values are taught, modeled, learned, and lived.

I invite you to discover your child's future at St. Ignatius School, where we strive to build the kingdom of God, one Saint at a time. Please call us today at 989-734-3443 with your questions or to schedule a tour. We would love to share this special place with you.

Blessings and peace,

Amy E. Rabeau, Principal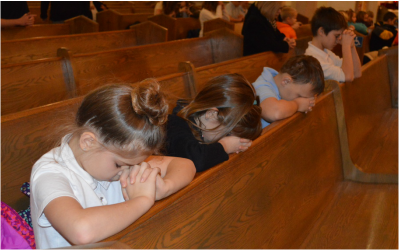 Contact Information
St. Ignatius of Loyola Catholic School 545 S. Third Street
Rogers City, Michigan 49779
Phone: 989-734-3443
Fax: 989-734-3443
School Hours
Office Hours: 7:45 a.m. - 3:15 p.m.
Teachers' Hours: 7:45 a.m. - 3:20 p.m.
Students' Hours: 7:55 a.m. - 2:55 p.m.
Lunch Hour (Grades 5-8): 11:05 a.m. - 11:45 a.m.
Lunch Hour (Grades 1-4): 11:25 - 12:05 p.m.
Weekly Children's Mass: Wednesdays 8:30 a.m.
Parish Office Phone Number
989-734-2753
Parish Website
http://www.stignatiusrc.org/
Diocese of Gaylord Website
https://www.dioceseofgaylord.org/
Faith First for Families Website
http://
faithfirst
.com
Weekend Mass Schedule
Saturday 4:30 p.m.
Sunday 9:30 a.m.
---